In a complex world characterized by change, lifelong learning is essential for everyone. Likewise, organizations must constantly develop and reinvent themselves to remain competitive.
The two should go hand in hand.
Because organizations tend to develop successfully when the people within them engage in continuous learning. And people who want to develop their skills to keep pace with the future will prefer to stay with an organization that is committed to development and in which they can realize their abilities.
Our sustainable concept from knowledge to ability effectively supports people and organizations on this journey.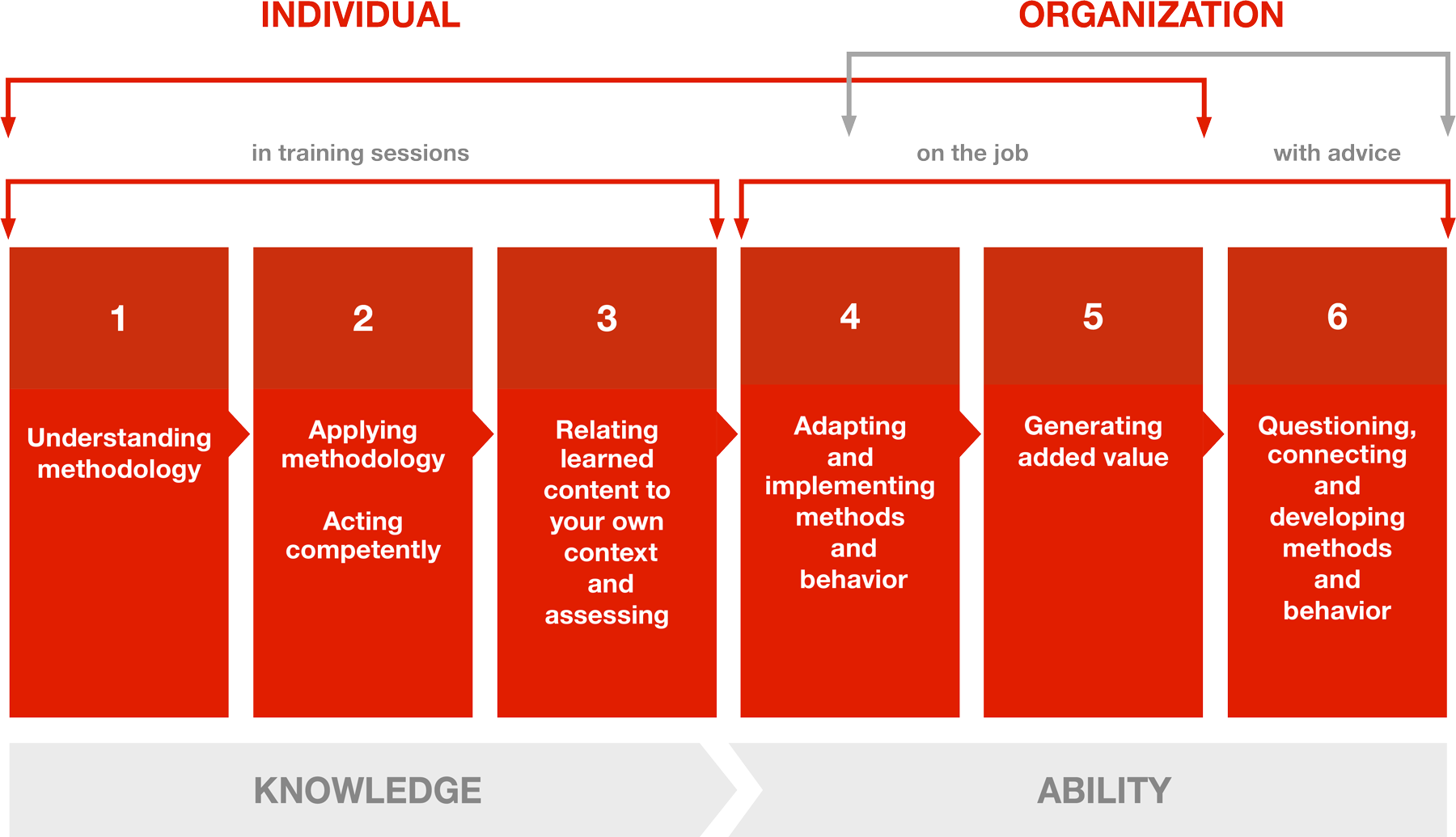 The six pillars for sustainable learning show
the interaction of knowledge and ability.
Understanding
methodology
In the first learning step participants get to grips with methodology. We provide a comprehensive overview and prioritize methods important for your division, explain why and how they are important.
Applying
methodology –
Acting
competently
In the second learning step we practise methods and behavorial skills by means of role plays. Participants practise in groups with simplified real-life scenarios.
Relating learned
content to your own
context and assessing
In the next learning step, you tackle your own corporate reality. We generate diversity by sharing experiences across industries. We allocate time and space for transfer exercises and (self-)reflection blocks.
Adapting and implementing
methods and behavior
After training, you compare what you have learned with the status quo in your own organization and the people (superior or colleagues) who did not take part in the training. Now it is over to you to develop your competence and impart to others what insights you have gained in order to generate added value for your organization through what you have learned. The CA controller akademie supports your efforts to do so with follow-ups and one-to-one business coachin The CA controller akademie supports your efforts to do so with follow-ups and one-to-one business coaching.
Genuine added value is generated for your organization when a change takes place thanks to your agency. To do so, you adapt the methods you have learned to fit your company. During individual coaching, we support you with this step and help you to continue developing your abilities in the long term.
Questioning, connecting
and developing
methods and behavior
In a dynamic environment, long-term success hinges on continuous questioning of the status quo, adaptation and connecting methods and behavioral approaches. We support your organization with consulting services and inhouse workshops. Individual coaching and an opportunity to share experiences in our communities is also offered. We see ourselves as a companion on your journey of continuous development from theory to practice.
Questions? We are happy to help you!
Questions? We are happy to help you!