New learning: digital and interactive.
Whether presence or online, participant-centered learning is our top priority. The combination of live online training, individual coaching and self-study training on our CAonAir training platform ensures sustainable learning results. In live online trainings, our trainers will teach you face-to-face and live using virtual moderation tools or flipcharts. On-site exercises, group work and exchange of experiences make our online training a lively learning experience. In the self-study part you have the opportunity to learn comfortably at your own pace, repeat and test your new knowledge. Having fun and enjoying learning are important guidelines for us in all formats. Choose the topics that are relevant to you from our extensive eLearning offer.
Especially for companies we design topics from our product portfolio inhouse as individual live online trainings. → Inhouse eLearning
Our online training stands for entertaining, intensive and efficient learning.
In doing so, we combine the learning formats that have been tried and tested in practice: Video trainings, live online trainings, live webinars, 1:1 consulting & individual coaching, presence training and online question support.
VIDEO TRAININGS
In our video trainings you can efficiently deepen seminar contents or refresh your knowledge quickly and easily. Videos and comprehension tests are available independent of time and location. CAonAir brings new knowledge to you in a lively form.
LIVE ONLINE TRAINING
We convey different topics through intensive interactive training units using flipcharts and digital whiteboards. Exercises and exchange of experiences between the participants make the live webinar experience particularly lively. Units of about 1.5 hours each.
1:1 CONSULTING & INDIVIDUAL COACHING
By means of webcam, chat function or telephone, we ensure an intensive exchange and accompany you during the implementation.
In individual sessions, we also deal with very personal concerns using the methods of systemic coaching.
ONLINE QUESTION SUPPORT
We provide individual assistance with questions, practical applications and the concrete implementation in the company via email or in the chat of our CAonAir online training portal.
An overview of our offer
Keep visiting our website. We are constantly expanding our online offer.
» I am positively surprised by the possibilities and the good knowledge transfer! The personal training portal with tutorials and tests prepares well for the live online training. Online means more flexibility in terms of work and family or time and cost savings, as you don't have to travel and stay overnight at the seminar location. «
Hendrik Fink on Stage II Online – Financial & Management Accounting
Insights into our trainings
3 minutes live from Stage II Blended – Financial & Management Accounting
Prioritizing of Objectives, Projects, Ideas and Activities
Good reasons for a CAonAir online training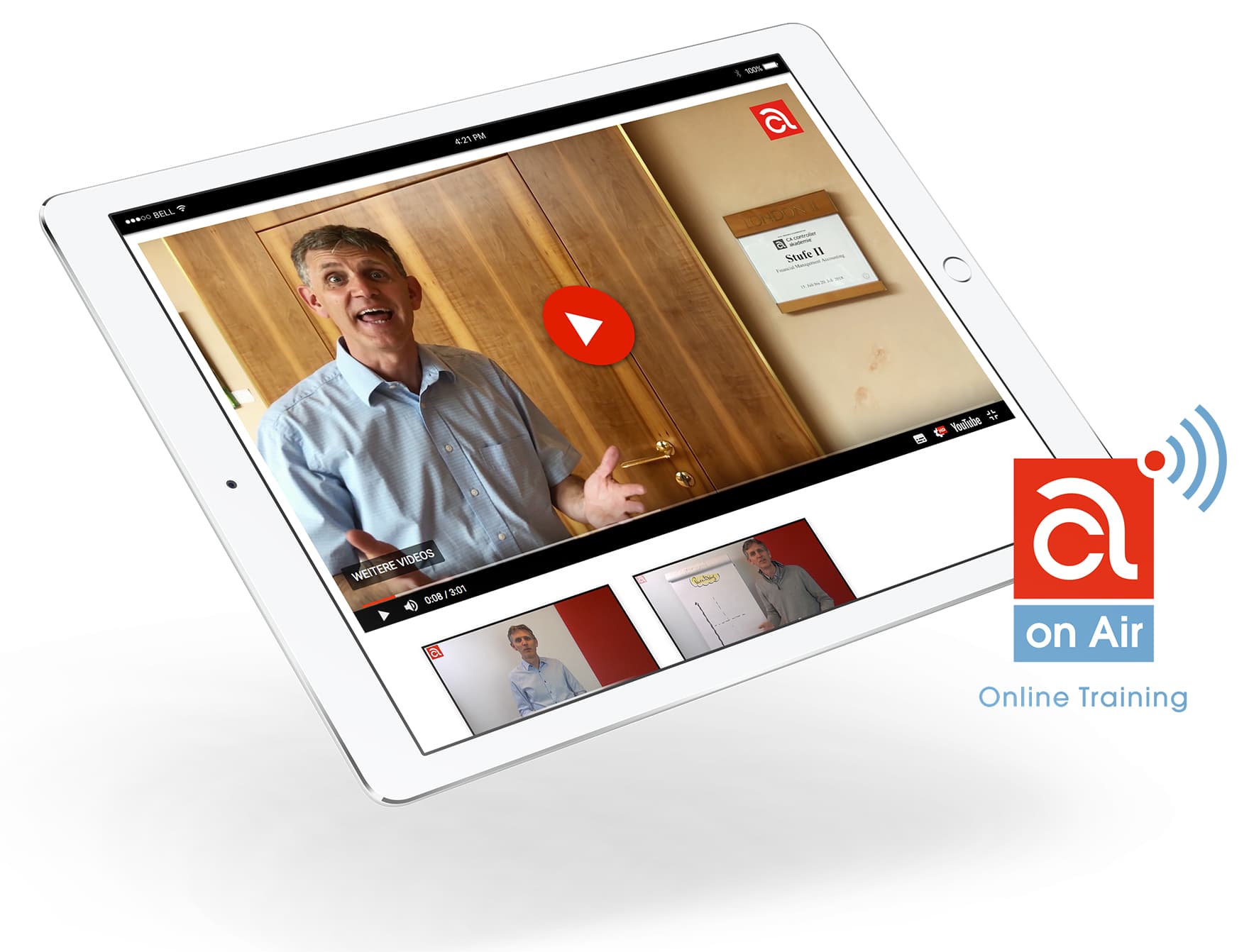 Fast vivid knowledge update


Methods and tools are presented in an innovative and informative manner and brought to live.

Independent of place and time without being away from the job


You can absorb, practice and implement knowledge independent of time and place.

Unlimited repetition


Knowledge can be consolidated by repeated viewing or refreshed for implementation at any time.

Company-wide uncomplicated transfer of knowledge


Uniform controlling standards can also be communicated company-wide.

Well accompanied by online question support


As part of our online question support, we answer individual questions by phone or email and organize the exchange of experiences among the participants. This enables us to achieve an almost 100% implementation rate.